Do you have a full store inventory?
We have an extensive online inventory. Our catalogue includes everything in-store, in our warehouses, and the many thousands of new books we can special order from our distributors.
If you cannot find a book on the shelf, be sure to check with our staff and they can help you locate what you need.
I found a book on your website. Where should I look for it in your store?
Searching Our Catalogue
When you click on an item in our catalogue, you will be linked to bibliographic and inventory information for that specific ISBN. The information on this page will tell you its location, condition, price and availability.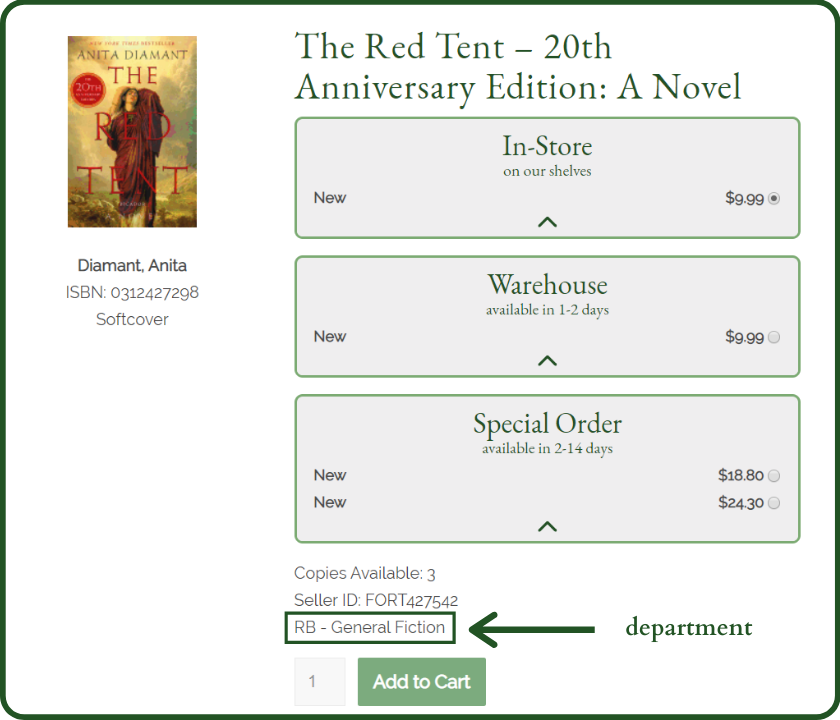 Location
In-Store — the item will be on our shelves at 747 Fort Street
Warehouse — the item will be in one of our warehouses and will take 1-2 days to arrive in-store
Special Order — the item can be ordered from our distributors and will take 2-14 days to arrive in-store. For more specific information about transit times, please give us a call at 250-361-4447
If we are out of stock on an item in our store, you can check the availability of other copies by clicking on the Warehouse or Special Order options.
Finding a Book In-Store
You can check the location of a book by referencing its department (indicated by the green arrow on the image above). In this example, the department is RB – General Fiction. That means the book would be located in General Fiction.
If the department says Warehouse or Special Order, the book is not available in-store, but can be brought in for you at no extra charge.
Unsure Where to Start?
Our staff are always happy to help you find a book. If you'd like to check on the availability of a book before coming to the store, we encourage you to give us a call at (250)-361-4447 or send an email to request@russellbooks.com.
If I don't see a book listed on your website does that mean you don't have it in stock?
If you are interested in a title that did not turn up in your online search, send an email to request@russellbooks.com or fill out our request list form below. Our staff will check the availability of your requested book. If we do not have it, we can add you to our request list and contact you when we have a copy arrive in-store.
As we have thousands of unique books come in through our book trade counter, the request list is an excellent way to discover the rare, the unusual, and those hard-to-find gems.
Russell Books Request List
How does in-store credit work?
Russell Books in-store credit can be obtained when you trade in books through our book trade. Credit never expires and can be used on any in-store purchase, including new books, used books, calendars, journals, and cards. The following guidelines apply:
You must have the physical credit note with you at the time of your purchase in order to spend your credit amount.
Credit cannot be used on purchases made over the phone or online.
We do not keep a record of customer credit totals.
When do you buy books?
For hours and other information about our Book Trade Counter visit the  Trading & Selling page.
Do you accept returns/refunds?
All sales at Russell Books are final.
If there is an issue with a book you purchased in-store and you have questions about exchanging a title, please come into the store with your original receipt and the book in question between Monday and Friday to speak with a manager as soon as possible. Any returns or exchanges are solely at the discretion of the management team.
If you are unable to come to the store to discuss your purchase please call us at 250-361-4447 and ask to speak with the manager on shift.
Can I put a book on hold?
Paid Holds
If you have purchased a book as a special order or selected Pick Up In-Store on your online order, it will be held for you on our paid hold shelf for up to 1 year.
What discounts do you offer?
If you are a member of a book club, we offer a special book club discount on purchases of 5 or more copies of the same title. See our Book Clubs page for more information.
We also offer a 10% discount for students and teachers. To be eligible, you must present a valid student/teacher ID at the time of purchase.
Discounts apply to in-store purchases only.
What's a special order?
Special order refers to books we can order directly in from our distributors. Special orders arrive in-store within 2-14 days, depending on where we source them from. For more information about specific transit times, please give us a call at 250-361-4447.
In-Store Purchases
All special order book purchase are final and require pre-payment. When your book arrives, we will contact you and hold it on our hold shelf for pick up at the Customer Service Desk for up to 1 year.
If you need your special order shipped, we can include that in your order! See the "What does shipping cost?" section in the FAQ for more information.
What does shipping cost?
In-Store Purchases
You will be charged for shipping at the time of purchase. See below for shipping rates:
Local (Victoria, Sooke, Saanich, and Sidney): $8 flat rate for any number of books
BC: $9 flat rate + $1 for each additional book
Provinces: $13 flat rate + $1 for each additional book
Territories: $15 flat rate + $1 for each additional book
U.S.: $10 flat rate + $1 for each additional book
International: $40 flat rate + $1 for each additional book
Please note that for purchases of heavy books or multi-volume sets, we may need to contact you for additional shipping charges.
Online Orders
The above rates apply for online orders. In addition, if you place an online order for $75 or more, we'll ship it via Surface Mail to anywhere in Canada and the U.S. (excluding territories) free of charge.
Shipping costs and any applicable taxes are not included in the $75 total
This offer remains valid even if we are unable to fill your entire order
Free shipping applies only to orders placed via our website at russellbooks.com
Live locally? Select Pick Up In-Store on your online order and you do not pay shipping fees! We'll contact you when your order arrives and hold it for you at our pick-up desk.