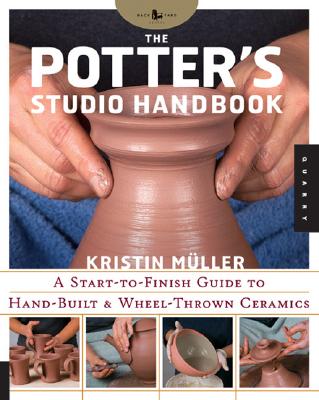 Stock Image

Author Name: Muller, Kristin

Title: Potter's Studio Handbook: A Start-to-Finish Guide to Hand-Built and Wheel-Thrown Ceramics (Studio Handbook Series)

Binding: PAPERBACK

Book Condition: New

Publisher: &nbspQuarry Books

ISBN Number: 1592533736 / 9781592533732

Seller ID: ING9781592533732



1592533736 Special order direct from the distributor

More Description

Like blacksmithing or hobby farming, pottery-making appeals to individuals who like to be creative, work with their hands, and donAEt mind getting a little dirty. However, it is a hobby that is largely underserved by the publishing industry, but difficult for someone to learn without a comprehensive guide because the tools and techniques are quite complicated. "The PotterAEs Studio Handbook" guides readers through the process of setting up their own studio and teaching them how to master the techniques at home. Once techniques are mastered, "The PotterAEs Studio Handbook" will remain an invaluable resource to the clay artist when looking to create beautiful, yet functional projects, at home with nearly 25 projects that build upon previously learned skills.
Teaches the three most popular techniques: wheel throwing, hand building, and slipcasting
Teaches readers how to make many functional and beautiful projects at home
Step-by-step photos guarantee success


Price = 33.74 CDN
Add to Shopping Cart