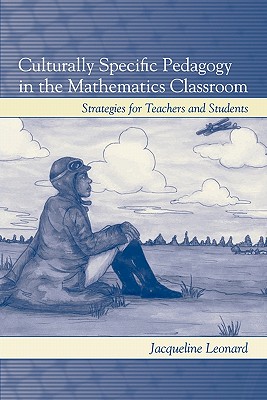 Stock Image

Author Name: Leonard, Jacqueline

Title: Culturally Specific Pedagogy in the Mathematics Classroom: Strategies for Teachers and Students

Binding: PAPERBACK

Book Condition: New

Publisher: &nbspRoutledge

ISBN Number: 080586105X / 9780805861051

Seller ID: ING9780805861051



080586105X Special order direct from the distributor

More Description

"Culturally Specific Pedagogy in the Mathematic Classroom offers a wide variety of conceptual and curricular resources for teachers interested in teaching mathematics in a way that challenges stratification based upon race, class, gender and other forms of oppression that students face in today s world .

With the publication of this book, all teachers will have available to them instructional strategies in mathematics for meeting the academic needs of culturally diverse students. They will have an explanation of the linkage between culture and students mathematical cognition and problem solving . The ease in which Leonard brings the reader along, and the caring way she tells a story about making mathematics a fun and social justice experience makes for an exciting learning opportunity for all students and teachers."

Carl A. Grant, University Wisconsin-Madison, United States, From the Foreword

"Mathematics educators are in a period of deep concern about our ability to educate all students in mathematics. Most students of color do not have the opportunities to fully learn mathematics. Nothing more important can be done for these students and their teachers than to publish this book addressing the miseducation of these students and offering a way to change what we are doing."

Carol E. Malloy, University of North Carolina-Chapel Hill, United States

This compelling text advocates the use of culturally specific pedagogy to enhance the mathematics instruction of diverse students. It accomplishes this by making clear the link between research and practice and offering lesson templates that teachers can use with ethnically and culturally diverse students and with females. Specifically, the text draws on sociocultural theory and research on culture and mathematics cognition to focus on three goals: using qualitative research to extend the literature on culturally based education to African American and Latina/o children in their development of mathematical knowledge and skills; using cognition research as it applies to better understanding of minority students goals, cognitive forms, and the interplay or transfer of out-of-school and in-school practices; and using pedagogical research to field-test new instructional methods for culturally diverse and female students.

Culturally Specific Pedagogy in the Mathematics Classroom:
features a model of culturally specific mathematics instruction that is grounded in Critical Race Theory;

uses comprehensive analyses of both qualitative and quantitative data to make the case that culturally specific pedagogy enhances student achievement;

presents cultural representations in problem solving and problem posing;

interweaves case studies, vignettes, and specific examples to help teachers to visualize what culturally specific pedagogy is and how to use it;

includes problems and questions developed by and of significance to preservice and inservice teachers.
This clear, powerful text is intended for teacher educators, researchers, and upper-division and graduate-level courses in multicultural/diversity education, mathematics education, and curriculum and instruction.



Price = 117.36 CDN
Add to Shopping Cart