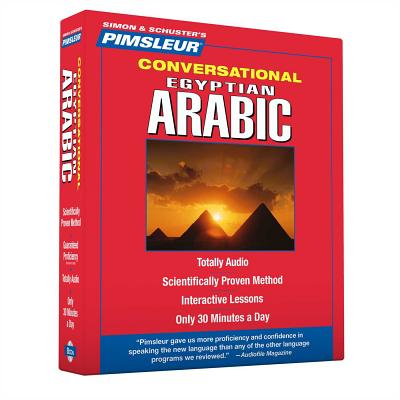 Stock Image

Author Name: Pimsleur

Title: Pimsleur Arabic (Egyptian) Conversational Course - Level 1 Lessons 1-16 CD: Learn to Speak and Understand Egyptian Arabic with Pimsleur Language Programs

Binding: Audiobook CD

Book Condition: New

Publisher: &nbspPimsleur

ISBN Number: 074355115X / 9780743551151

Seller ID: ING9780743551151



074355115X Special order direct from the distributor

More Description

Egyptian Arabic is mainly spoken in urban Egypt. Egyptian Arabic has also gained a high degree of acceptance throughout the Arabic-speaking world because of its use in films. Pimsleur's Egyptian Arabic teaches the Careen dialect, the dialect of the Egyptian capital.
Arabic (Egyptian), Conversational

Sixteen 30-minute lessons of spoken Egyptian Arabic language instruction. "These sixteen lessons are the same as the first sixteen lesson of Pimsleur's 30-Unit Comprehensive Program."
Each lesson includes an introductory conversation, and new vocabulary and structures and includes practice for vocabulary introduced in previous lessons.
Essential grammar and vocabulary. Topics include: greetings, numbers, meals, shopping, telling time, scheduling activities, and asking and giving directions.
No mindless repetition Converse with native speakers in natural (and useful ) conversations.
Easy, fast, fun and effective language acquisition.
Completely Audio - anytime, anywhere. No computer necessary Unlike expensive software programs which tie learners to a computer, Pimsleur courses are available in CD or mp3 format to meet your needs.
"Receive an instant credit of $150 to trade up from the Conversational to the full Level 1 Comprehensive CD course."
Pimsleur(R) equals success. Just one 30-minute lesson a day gets you speaking and understanding like no other program.



Price = 70.81 CDN
Add to Shopping Cart