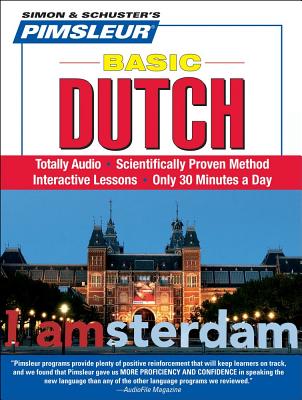 Stock Image

Author Name: Pimsleur

Title: Pimsleur Dutch Basic Course - Level 1 Lessons 1-10 CD: Learn to Speak and Understand Dutch with Pimsleur Language Programs

Binding: Audiobook CD

Book Condition: New

Publisher: &nbspPimsleur

ISBN Number: 0671047787 / 9780671047788

Seller ID: ING9780671047788



0671047787 Special order direct from the distributor

More Description

Dutch is the official language of the Netherlands and is one of three official languages in Belgium, where it is called Flemish. Pimsleur's Dutch teaches Standard Dutch, or "Newsreader Dutch," which is widely understood and accepted in the Netherlands. Dutch and Flemish are mutually intelligible.
Dutch, Basic

Ten 30-minute lessons of spoken Dutch language instruction ("the first ten Units of Pimsleur's 30-Unit Comprehensive Program)."
Essential grammar and vocabulary that teach you greetings, numbers, how to order food and drinks and to give and ask for directions. Learn to speak with near-native pronunciation.
No mindless repetition Converse with native speakers in natural (and useful ) conversations.
Easy, fast, fun and effective language acquisition.
Completely Audio - anytime, anywhere. No computer necessary Unlike expensive software programs which tie learners to a computer, Pimsleur courses are available in CD or mp3 format to meet your needs.
"Receive an instant credit of $50 to trade up from the Basic to the full Level 1 Comprehensive CD course. "


Price = 33.68 CDN
Add to Shopping Cart