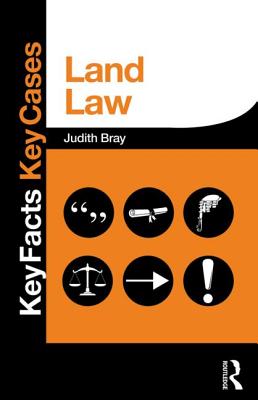 Stock Image

Author Name: Bray, Judith

Title: Land Law (Key Facts Key Cases)

Binding: PAPERBACK

Book Condition: New

Publisher: &nbspRoutledge

ISBN Number: 0415833337 / 9780415833332

Seller ID: ING9780415833332



0415833337 Special order direct from the distributor

More Description

Key Facts Key Cases: Land Law will ensure you grasp the main concepts of your Land Law module with ease. This book explains the facts and associated case law for:
The definition of land
The registered land system
Co-ownership
Express, resulting and constructive trusts in land
Leases
Key rights in land such as easements and covenants
Mortgages
Proprietary estoppel and licences.
Adverse possession
Key Facts Key Cases is the essential series for anyone studying law at LLB, postgraduate and conversion courses. The series provides the simplest and most effective way to absorb and retain all of the material essential for passing your exams. Each chapter includes:
diagrams at the start of chapters to summarise key points
structured headings and numbered points to allow for clear recall of the essential points
charts and tables to break down more complex information
Chapters are also supported by a Key Cases section which provides the simplest and most effective way to absorb and memorise essential cases needed for exam success.
Essential and leading cases are explained
The style, layout and explanations are user friendly
Cases are broken down into key components by use of a clear system of symbols for quick and easy visual recognition


Price = 64.71 CDN
Add to Shopping Cart