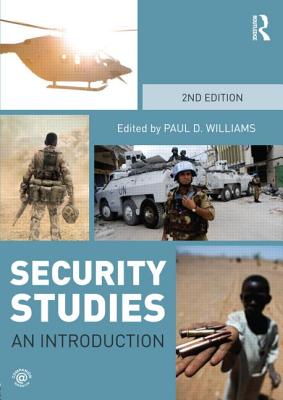 Stock Image

Author Name: Williams, Paul D., Professor

Title: Security Studies: An Introduction

Binding: PAPERBACK

Book Condition: New

Edition: 2

Publisher: &nbspRoutledge

ISBN Number: 0415782813 / 9780415782814

Seller ID: ING9780415782814



0415782813 Special order direct from the distributor

More Description

Security Studies is the most comprehensive textbook available on security studies.

Comprehensively revised for the new edition including new chapters on Polarity, Culture, Intelligence, and the Academic and Policy Worlds, it continues to give students a detailed overview of the major theoretical approaches, key themes and most significant issues within security studies.
Part 1 explores the main theoretical approaches currently used within the field from realism to international political sociology.
Part 2 explains the central concepts underpinning contemporary debates from the security dilemma to terrorism.
Part 3 presents an overview of the institutional security architecture currently influencing world politics using international, regional and global levels of analysis.
Part 4 examines some of the key contemporary challenges to global security from the arms trade to energy security.
Part 5 discusses the future of security.
Security Studies provides a valuable teaching tool for undergraduates and MA students by collecting these related strands of the field together into a single coherent textbook.

Contributors: Richard J. Aldrich, Deborah D. Avant, Sita Bali, Michael N. Barnett, Alex J. Bellamy, Didier Bigo, Pinar Bilgin, Ken Booth, Barry Buzan, Stuart Croft, Simon Dalby, John S. Duffield, Colin Elman, Louise Fawcett, Lawrence Freedman, James M. Goldgeier, Fen Osler Hampson, William D. Hartung, Michael Jensen, Adam Jones, Danielle Zach Kalbacher, Stuart J. Kaufman, Michael T. Klare, Peter Lawler, Matt McDonald, Colin McInnes, Cornelia Navari, Michael Pugh, Paul R. Pillar, Srinath Raghavan, Paul Rogers, Waheguru Pal Singh Sidhu, Joanna Spear, Caroline Thomas, Thomas G. Weiss, Nicholas J. Wheeler, Sandra Whitworth, Paul D. Williams, Phil Williams and Frank C. Zagare.



Price = 121.41 CDN
Add to Shopping Cart