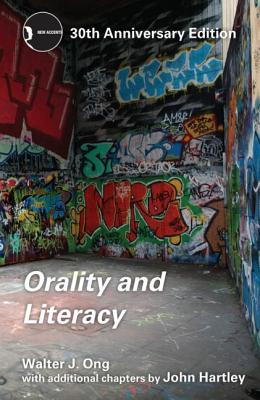 Stock Image

Author Name: Ong, Walter J.

Title: Orality and Literacy: 30th Anniversary Edition (New Accents)

Binding: PAPERBACK

Book Condition: New

Edition: 30

Publisher: &nbspRoutledge

ISBN Number: 0415538386 / 9780415538381

Seller ID: ING9780415538381



0415538386 Special order direct from the distributor

More Description

Walter J. Ong s classic work provides a fascinating insight into the social effects of oral, written, printed and electronic technologies, and their impact on philosophical, theological, scientific and literary thought.

This thirtieth anniversary edition coinciding with Ong s centenary year reproduces his best-known and most influential book in full and brings it up to date with two new exploratory essays by cultural writer and critic John Hartley.

Hartley provides:
A scene-setting chapter that situates Ong s work within the historical and disciplinary context of post-war Americanism and the rise of communication and media studies;

A closing chapter that follows up Ong s work on orality and literacy in relation to evolving media forms, with a discussion of recent criticisms of Ong s approach, and an assessment of his concept of the evolution of consciousness;

Extensive references to recent scholarship on orality, literacy and the study of knowledge technologies, tracing changes in how we know what we know.
These illuminating essays contextualize Ong within recent intellectual history, and display his work s continuing force in the ongoing study of the relationship between literature and the media, as well as that of psychology, education and sociological thought.



Price = 78.88 CDN
Add to Shopping Cart