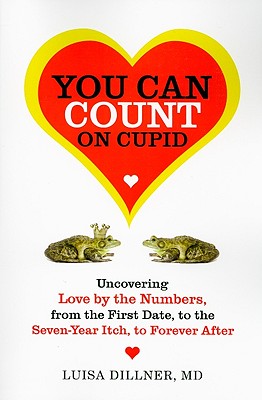 Stock Image

Author Name: Dillner, Luisa

Title: You Can Count on Cupid: Uncovering Love by the Numbers, from the First Date, to the Seven-Year Itch, to the Forever After

Binding: Paperback

Book Condition: Very Good

Publisher: &nbspSt. Martin's Griffin 2010

ISBN Number: 080509041X / 9780805090413

Seller ID: FORT247292



080509041X

More Description

True-love facts about modern dating, marriage, breakups, and makeups, from the "Guardian"'s popular relationships advice columnist

Is love blind--or does Cupid calculate? Luisa Dillner, a medical doctor and the entertaining "Love by Numbers" columnist for London's "Guardian" newspaper, sifts through the latest scientific research to answer the questions of the lovelorn and the love crazy alike. She tackles perennial matters of the heart, such as:
Which pickup lines work the best?
Do gentlemen prefer blondes?
How do I know she's "the one"?
How can I get my boyfriend to stop flirting and start taking out the trash?
Are office romances doomed?
What's the best way to mend a broken heart?
Will any couple ever be able to avoid arguing in the car?
For those curious about the chances of tempting someone to leave a spouse (50 percent of those approached take the bait) or if Web romances bloom in the spring (the peak times for online love are actually January, February, and September), Dillner is the perfect--and amusing--guide to the science of living happily ever after.



Price = 7.99 CDN
Add to Shopping Cart